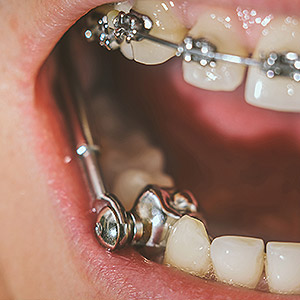 "Orthodontic treatment" and "braces" almost seem like synonymous terms. But while braces certainly are orthodontic, it isn't the only tool in an orthodontist's toolkit.
A good example is a device is known as a Herbst appliance. It's used in situations where the upper jaw is outpacing the growth and development of the lower jaw during childhood. If not corrected, this could cause the top teeth to protrude abnormally beyond the lower teeth.
The Herbst appliance gently and gradually coaxes the lower jaw to grow in a more forward direction, thus "catching up" with the upper jaw. The top part of the device consists of two metal tubes hinged to small elastic bands, which are cemented to the cheek side of the upper back teeth (molars), one on either side of the jaw.
Two smaller tubes are attached in like fashion to the lower teeth, and then inserted into the larger tubes. As the lower jaw moves, the smaller tubes move within the larger to create pressure that gently pushes the jaw forward. Over time, this can sync the growth progress of both the upper and lower jaws, and reduce the chances of a poor bite.
For best results, a Herbst appliance is usually placed to coincide with a child's most rapid period of jaw growth, usually between 11 and 14. They could be placed as early as 8 or 9, however, in situations where the front teeth are already protruding well beyond the lips. In any event, the goal is to positively influence the growth of the lower jaw to alleviate or at least minimize the need for future orthodontic treatment.
As a fixed device, there's no need for a child or parent to tend to it as with other methods, like orthodontic headwear worn in conjunction with braces. A Herbst appliance can, however, alter the normal sensations associated with eating, swallowing and speaking, which may take a little adjustment time for the child. Wearers will also need to be extra vigilant with daily brushing and flossing because of a higher risk of tooth decay.
These, though, are minor inconveniences compared with the benefit of improved bite development. As such, a Herbst appliance could be a positive investment in your child's dental future.
If you would like more information on interceptive orthodontics, please contact us or schedule an appointment for a consultation. You can also learn more about this topic by reading the Dear Doctor magazine article "The Herbst Appliance."